If your bicycle is registered, you've got a greater chance of  getting it back if it's ever stolen
Less than 5 percent of the bikes recovered by police are registered
Bicycle theft is unfortunately a common occurrence, and it can be devastating to lose a valuable and cherished mode of transportation. However, if your bicycle is registered, you increase your chances of getting it back if it's ever stolen. By registering your bicycle, you provide important identifying information to law enforcement and other agencies that can help in the recovery of your stolen bike. With a robust bicycle registration system like 529 Garage provides a way for you to be notified if your bike is recovered by police. Registering your bicycle is a simple and effective way to protect your investment and increases the likelihood of its safe return in the event of theft.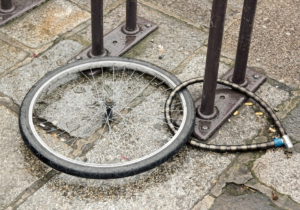 Why 529 Garage
A robust, user-friendly registration system provides the best kind of results
529 Garage helps reduce bike theft, promotes cycling, and makes cities more bike-friendly. Over the past two decades, bike theft in North America has grown to epidemic proportions—affecting millions of riders each year. Beyond the half-billion dollar cycling black market, numerous stolen bikes are involved in secondary crimes—serving as a modern "getaway vehicle" for criminals. The 529 strategy is simple—galvanize riders, shops, police, cities with a common set of tools that allow communities to become better organized than the criminals. Cities that we have joined forces with have seen meaningful, double-digit results.